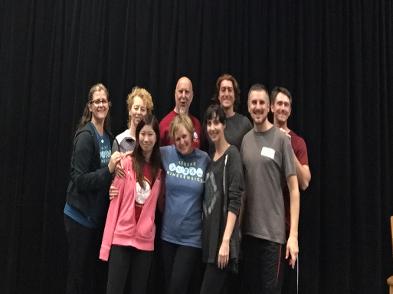 West Coast Weekender Workshop! An introduction or refresher of Lessac Voice and Body Work
October 22 and 23rd, 2016

Santa Monica College, Santa Monica, CA
A Lessac Voice & Body Workshop

Unveil your voice that
has
musicality, rhythm & variety
grounded in
body health and wisdom
. Join me in a two day experience that will introduce or refresh the fundamentals of Arthur Lessac's legendary approach to vocal/body health & wisdom. Develop the awareness to use the power in your voice right now! The Perfect Weekender Session! Session runs from 9am-5pm, Saturday and Sunday with a 1.5 hour lunch break on your own. Fee: $175.00. Led by Certified Trainer Crystal Robbins and in collaboration with the Lessac Institute and Santa Monica College Theatre Department. Register at www.lessacinstitute.org.
Comment from satisfied participants:
"Does speaking well make a difference? Unquestionably it does. This is an excellent workshop for anyone who wants to improve their delivery style. The weekend course focused on overcoming delivery challenges with effective strategies [to help you sound more natural and lively]. You'll have lots of fun while learning a lot. The instructor is a 'master." She's clearly knowledgeable, enthusiastic and personable. You'll love her and her class! Clear instructions from a highly motivated and knowledgeable instructor. Well worth it!" Catherine McNamara, college professor


"The biggest discovery is the FUN in making sounds. People say I speak more distinctly now." Judy Cohen, motivational speaker


What are you waiting for?
These relaxing and stimulating workshops are geared to actors, theatre & music teachers, ESL, speech therapists, business people, speakers and those seeking to gain tools for greater self awareness, embodied voice and empowerment. Contact www.lessacinstitute.org or on my contact page. Thank you for your interest!